Founders Lori Cassidy and Pam Kressley were invited to sail on the inaugural voyage of the Celebrity Apex, the second ship in the Edge Class series. This ship and her sister ships Celebrity Edge and Celebrity Beyond are included in our Level 4 Certificate. Here's a summary of their experience and thoughts about the product as shared by Pam Kressley.
Without a doubt, there's nothing like an inaugural voyage. Even though the number of cruises I've taken over my lifetime is somewhere in the hundreds, there's still something uniquely exhilarating about taking part in an inaugural cruise. There's a flurry of activity is everywhere – vloggers busy recording themselves touring around the ship, the media everywhere – conducting interviews and filming footage all over the ship, plus the crew is beaming with pride to be a part of the fleet's shiniest new addition. For the rest of us, it's a chance to explore a brand-new vessel — checking out every area from stem to stern and of course mapping out the favorite spots where we want to return.
The first ship in this class, Celebrity Edge, which debuted in 2018, has garnered enormous accolades for its design. It's easy to see why. Sleek, elegant, and sophisticated yet still fun, this ship manages to do something few others have been able to do – strike just the right balance between elegance and energy to deliver a product in a way that seems effortless. And this doesn't happen by chance. A lot of intent went into this ship's design, providing just the right amount of real estate to each space, perfectly blending both feel and functionality. Certainly not an easy thing to do. But they nailed it.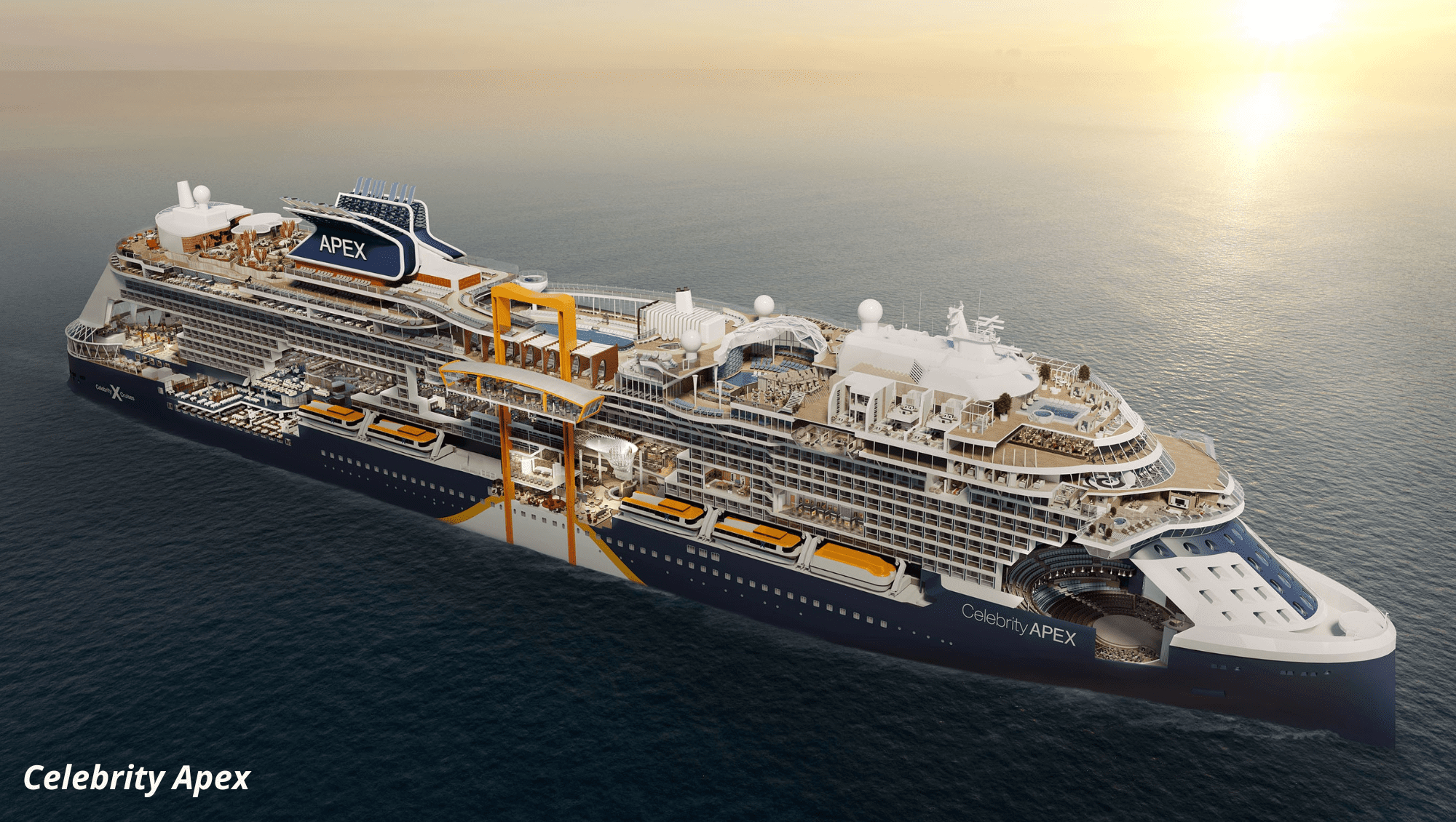 One thing I noticed immediately as I strolled around the ship was the feeling of openness and expanse – high ceilings (very unusual for a ship), wide thoroughfares and even more spacious elevators were all noteworthy in this ship's design. It really caught me by surprise and I couldn't wait to see what was around the next corner.
As one often does immediately after boarding, we headed straight to the buffet on Deck 14. Not typically a topic to write home about, but the Oceanview Cafe was an exception. With double height floor to ceiling glass all around (again, very unusual in the cruise world), not to mention the incredible food displays, instead of doing my normal buffet "dine and dash", I felt compelled to linger a little longer, just to take in the venue and the view.
Making our way to the Aqua Class stateroom which would be our home for the weekend, I was definitely looking forward to experiencing this type of accommodation first-hand. Aqua Class is an elevated balcony category that provides guests with extra benefits such as complimentary access to the Thermal Suite in the spa, access to the exclusive restaurant 'Blu', and a Spa Concierge. What I loved most about this stateroom was the "infinite veranda", a totally unique design concept whereby the fourth "wall" is floor to ceiling glass with a retractable balcony. Meaning, the space of the balcony is actually inside the stateroom. And with the click of a button, the upper half of the glass partition comes down to standard railing height, allowing you to enjoy the ocean breeze on your private "balcony". It's truly a brilliantly executed design concept. Take a look at them here: https://youtu.be/Y_jcHquq0Sc
For the fitness minded, there is a spectacular gym that offers every piece of equipment imaginable, a dedicated spinning room plus 6 Peloton bikes in the main workout area, and an F45 training venue as well (which is very on trend). Guests staying in the Iconic Suites can even ask to have one of the Peloton bikes delivered to their room. As of this publication, Celebrity Apex and Celebrity Beyond (the third ship in the Edge Class series) are the only ships on any cruise line to feature Peloton as well as offer F45 training. It speaks very loudly to the demographic Celebrity is going for with this class of ship.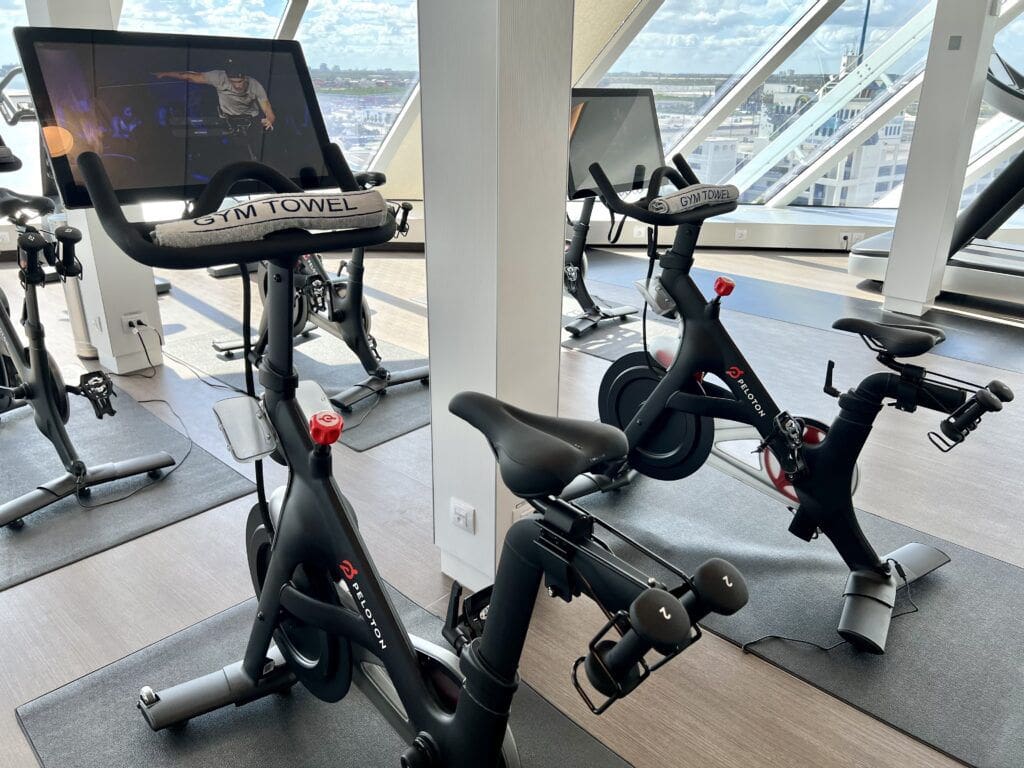 A popular choice for runners is to forego the fitness center and enjoy the ocean view on the outdoor running track, located on Decks 14/15. What's unique about Celebrity Apex's track is that is has an elevation variation of one full deck over its course (4.5 laps = 1 mile), so there are slight inclines and declines as you make your way around. Winding its way around the pool deck, while you definitely still have to duck and dodge other guests wandering across the track, with a little help from designated "Walkers" and "Runners" lanes, it provides a great alternative to an indoor workout.
If you're the type who likes to snap a photo of your dinner entree and share it on social media, then good WiFi connectivity is a must. Technology has evolved by leaps and bounds in the cruise industry over the last 10 years, slowly bridging the gap in WiFi quality between land and sea. Celebrity cruises includes the standard "surf" WiFi package in their pricing which allows you surf the web, send emails and text, but it's important to note if you need full streaming capabilities, (Zoom, Teams, FaceTime, Facebook Live, play video games, stream movies) you'll need to upgrade to the "stream" package (rates vary).
Once you've decided to put down your laptop and explore around, you'll find a myriad of restaurants, cafes, venues and open spaces. One particularly unique venue is Eden, a three-story tall, multi-use space that includes a bar, restaurant and lounge spanning the entire width of the back of the ship (with floor to ceiling windows looking out to the sea through surrounding the venue). It's truly one of the most stunning venue spaces I've ever seen. Enveloped by lush greenery and funky functional seating (including lily pad shaped chairs at the entrance), the "lounge" portion features several themed shows, which take place just in front of the bar area. It's a not to be missed experience.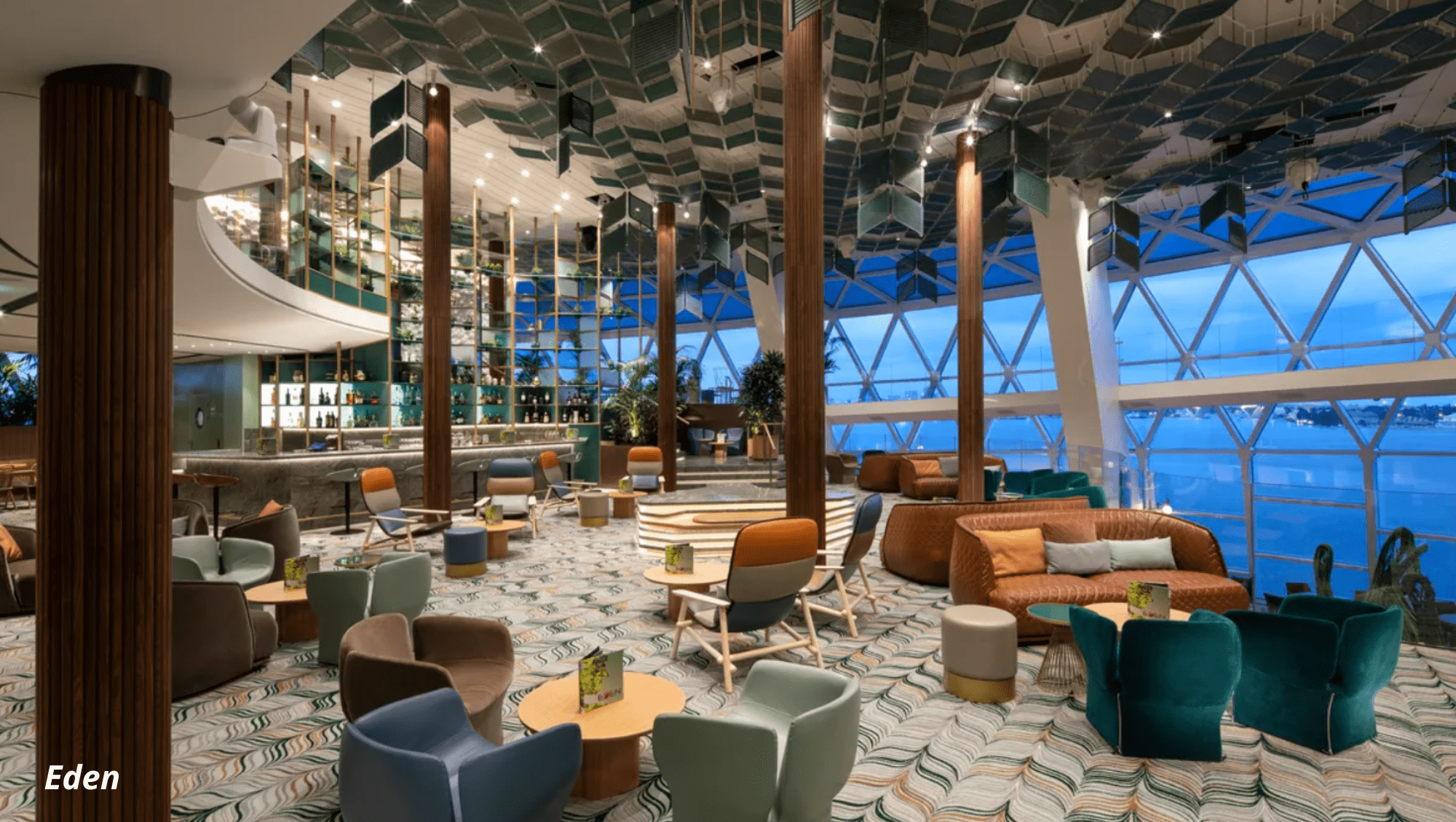 Probably one of the most unique venues and something that stands out from its exterior design is the "Magic Carpet", a revolutionary vertical ascending/descending cantilevered platform that becomes an open-air restaurant with the most breathtaking views of the ocean. Part bar and part restaurant, it's probably the coolest social media post backdrop one could ever find at sea. More on all of the exciting beverage and dining experiences can be found here: https://youtu.be/2c84XQJX5Ac |
https://youtu.be/BJRRgd9OW0E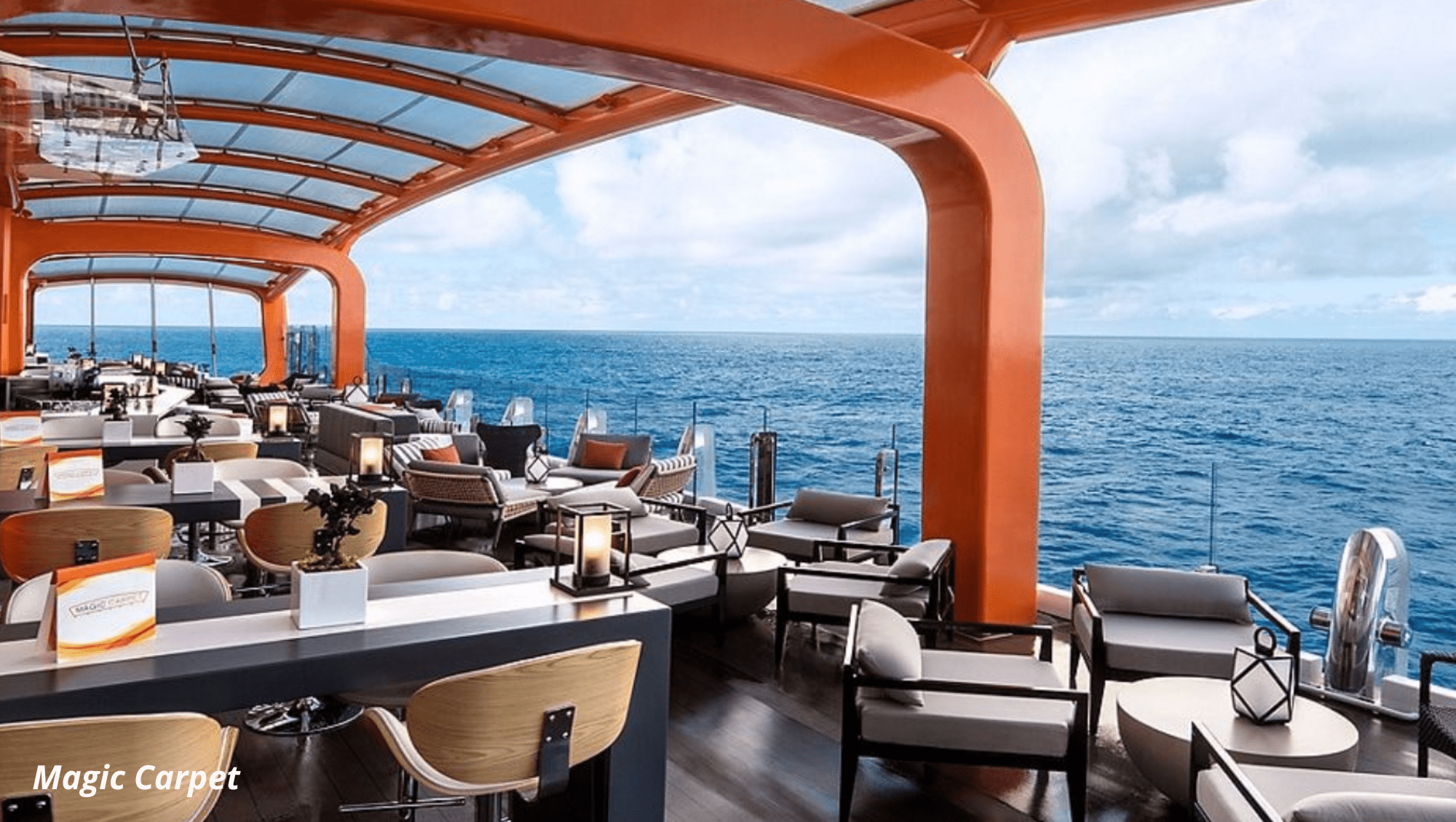 Featuring spectacular live performances in the main theater, Celebrity has really evolved to become a heavyweight contender among the lines well known for their entertainment. Showcasing a variety of acts that offer something for everyone, the venue itself is pretty unique with its 23-foot-tall, 110-foot-wide LED screen curving around the stage, which projects into the audience.
Recently ranked #1 on the "Best Mega-ship Ocean Cruise Line" list by Travel + Leisure magazine, Celebrity Cruises exemplary design and superior service have clearly made an impression upon the cruising community. While our brief voyage didn't allow for us to partake in every onboard experience, we can tell you with absolute certainty that the journey to your destination on board Celebrity Apex will be as fulfilling as a visit to the destination itself.