General
Certificate Delivery
All certificates (except Fairmont/Raffles/Swissotel) are delivered via a secure link electronically. Purchasers can choose to keep it 'simply digital' and forward the e-gift certificate directly to the recipient, or 'put a bow on it' and choose our elegant Gift A Trip red box delivery.
The actual vacation certificate from the resort or cruise line with your unique e-certificate ID#'s should arrive via email in 3-7 business days. However, if you choose an option from the Flex Trip Collection, you will receive a digital certificate to send to them within 24 hours, with the recipient choosing the actual vacation certificate at a later date.
Red Box Delivery/Details
The box comes with a beautifully printed personalized note card (you tell us how you'd like the note to read), plus a travel planner/journal as well as basic details about the vacation they've been gifted.
Yes. You can choose to deliver the box to yourself, untie the ribbon, and add whatever contents you like that will fit inside. Then simply retie the box and you're all set. Be sure to keep the personalized note card inside, so the recipients know the next steps in booking their vacation.
Your Red Box arrives via UPS, carefully packaged inside a plain, white shipping box.
Orders are shipped out from Orlando, FL, via UPS Ground Service, which for the majority of the country is 2-4 days, depending on your location (see map below). If you need it faster, you can select 'expedited shipping' at checkout.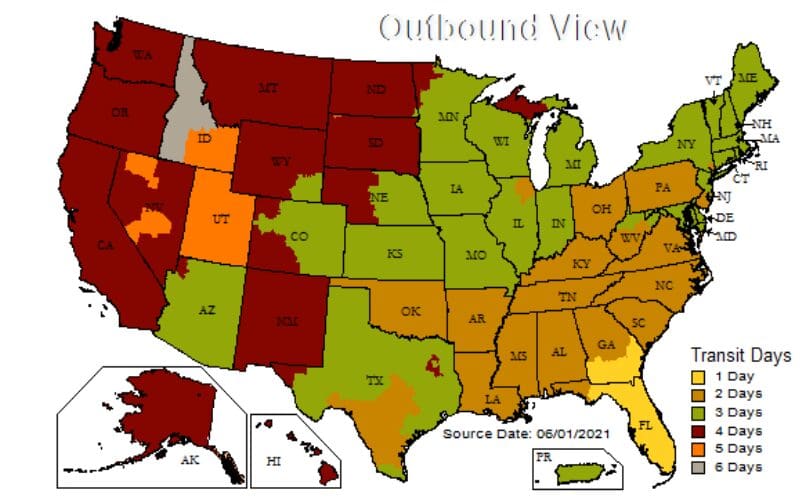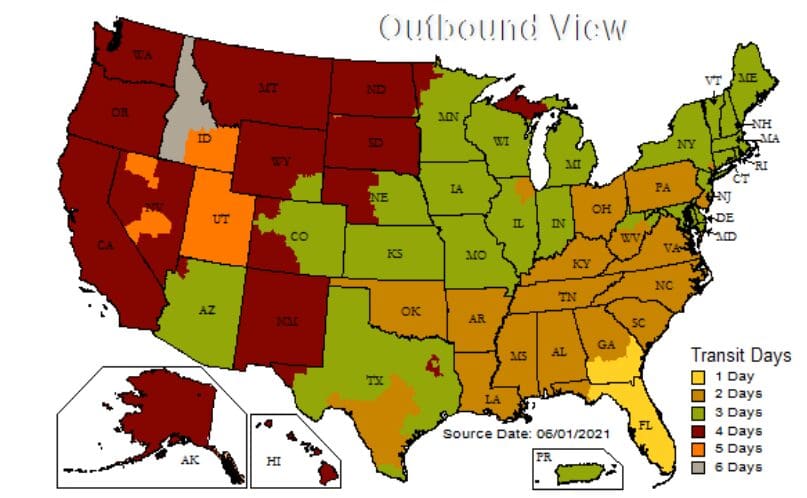 Inside:  Length: 8.0" x Width: 8 ½" x Height: 2 ¼".  Outside: Length: 8 ¾" x Width: 8 ¾" x Height 2 ½". 
For individual box orders, no, but for bulk orders (25+), yes! We can help create something unique for your corporate brand, or for large personal gifting needs. Prices will vary, depending on the level of customization. Box color, ribbon, logo, additional gifting items, all can be customized.
Redeeming Your Certificate And Booking Your Vacation
The Flex Trip Collection
Purchasing a Flex Trip Collection means you have chosen to give the recipient the option to select from ANY vacation option available within the Flex Trip Collection Level purchased. This is perfect if you're unsure which vacation they'd enjoy the most, or if you wish to simply offer them the maximum number of vacation options within a certain budget.
After you've chosen your delivery preference and check-out, we'll send YOU (the purchaser) the digital Flex Trip Collection confirmation within 24 hours, which you'll in turn forward on to the recipient. It provides full details of the certificate options available from which they can choose, and next steps. As the purchaser, after you forward them the Flex Trip Collection confirmation, there's nothing more for you to do. It's then up to them to decide which vacation they prefer, and let us know directly (via email) so we have a record of their selection. We'll take it from there!
IMPORTANT:  Flex Trip Collection gifts expire if no selection has been made after the expiration date noted on the certificate. Meaning, if the recipient has not provided us with their selection within the specified time frame, the Flex Trip Collection expires, becomes null and void, and non-refundable. When they do make their selection within the time-frame specified however, the redeemable certificate issued by the cruise line, hotel or resort is valid for a minimum of 2 years (but most don't expire at all).